The Pink Panther, Paula Creamer ain`t afraid to show of her sexy legs in a nice short skirt. I wish she didn`t wear those shades all the time though, she has a really pretty face to go with the hot body.

Paula`s sexy legs,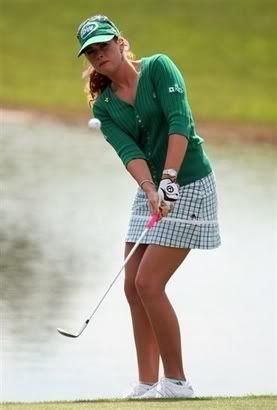 Here is her bio from wikipedia,
Paula Creamer (born August 5, 1986) is an American professional golfer playing on the LPGA Tour. She was named LPGA Rookie of the Year in 2005 and has five wins on the LPGA Tour, with seven total professional wins.

Nicknamed the "Pink Panther" for the color she often wears, Creamer finished second on the LPGA money list in 2005, and in 2007 was third. In the Women's World Golf Rankings she has been as high as number two, and as of April 2008 is in the top five.

Creamer started playing golf when she was 10 years old. At the age of 12, she won 13 consecutive regional junior events in Northern California.

She won a total of 19 amateur national titles, including 11 American Junior Golf Association tournaments. She was a semi-finalist in the 2003 U.S. Girls' Junior Championship and U.S. Women's Amateur Championship, and reached the same stage of both events the following year. In 2004, she also placed second in the ShopRite LPGA Classic, tied for 13th in the U.S. Women's Open, and represented the United States in the Curtis Cup.

She won the 2004 LPGA Tour Final Qualifying Tournament by five strokes, thus gaining membership on the Tour for the 2005 season. She turned professional immediately after the event.

Upon joining the LPGA Tour in 2005, Creamer quickly became a top player. On May 22, she holed a 17-foot birdie putt on the final hole of the Sybase Classic in New Rochelle, New York to win by one stroke. Creamer became the youngest winner of a multiple-round tournament in LPGA history. (Marlene Hagge won twice at a younger age than Creamer. Both wins came in 18-hole events.) On July 23, she claimed her second title of the year, winning the Evian Masters tournament in France by an eight-shot margin. She became the youngest and quickest player to reach $1 million in LPGA career earnings. In August Creamer won the NEC Open on the Japan LPGA tour, and added a victory at the Masters GC Ladies tournament two months later. Creamer earned a spot on the U.S. Solheim Cup Team, becoming the youngest player to do so. She helped the U.S. team win the cup, going 3–1–1 for the competition. Creamer won the LPGA Rookie of the Year award for her season,[10] in which she earned over $1.5 million, second on the money list behind Annika Sörenstam, and recorded eight top-three finishes.

After her strong first-year performance, Creamer's 2006 season was not as successful. She did not win a tournament, and was hampered by wrist and foot injuries during the year. Creamer still managed to earn over $1 million and make the cut in all 27 LPGA tournaments in which she played, compiling 14 top-10 finishes. Her best result of the season was a tie for second at The Mitchell Company Tournament of Champions.

In 2007, Creamer rebounded with two LPGA Tour titles. On February 17, she won her third career LPGA title at the SBS Open at Turtle Bay, making a 40-foot birdie putt on the 17th hole of the final round to defeat Julieta Granada by one shot. In November, Creamer won The Mitchell Company Tournament of Champions, defeating Birdie Kim by eight strokes. She also played in her second Solheim Cup, leading both sides in points earned. Creamer went unbeaten in five matches as the U.S. team retained the cup. For the season, she posted 13 top-10 finishes and earned over $1.3 million, third on the money list.

In February 2008, she earned her fifth LPGA title at the Fields Open in Hawaii, coming back from a late two-shot deficit with birdies on the final three holes.

Creamer has endorsement deals with Taylor Made, Adidas, RBS, NEC, Kraft Foods, Sundog Eyewear, CDW, Aldila, and Citizen Watch. She also appeared in Tiger Woods PGA Tour 08, a video game developed by EA Sports.

Creamer was born in Mountain View, California and grew up in Pleasanton, where she attended Foothill High School. In 2000, she moved to Bradenton, Florida to attend the IMG Golf Academy, where she graduated from the IMG-affiliated Pendleton High School the week after her first LPGA victory. As of 2007, she lived in Isleworth, a gated community in Windermere, Florida.

Due to her fondness for wearing pink, Creamer's friend Casey Wittenberg nicknamed her the "Pink Panther". The sobriquet followed her when she turned pro. Creamer's golf clubs have pink grips, and her bag is pink (complete with a Pink Panther head cover for her driver. She uses a pink golf ball during the last round of every tournament provided by Precept Golf, one of her sponsors.


[get this widget]