From yesterday's action at the US Open, this is hottie Marion Bartoli of France reacting to a point. She went on to beat Lindsay Davenport of the United States at Flushing Meadows. I love the splits she does exposing her crotch, very hot.

Marion is all smiles,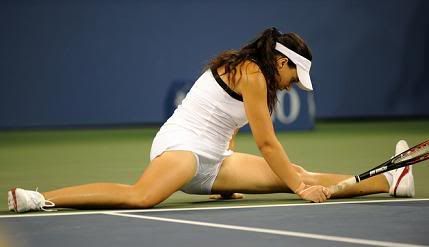 Excerpts from her bio on Wikipedia,
Marion Bartoli (born October 2, 1984) a French professional tennis player. She has won three WTA titles, and was runner-up at the 2007 Wimbledon Championships. She has been ranked as high as #9 in the world, and as of March 24, 2008, is the number one female French player. She is currently No. 13 in the world as of August 4, 2008.

Bartoli is known for her unorthodox and intense style of play on the court. She uses two hands on both the forehand and the backhand, and is generally classed as an aggressive and hard-hitting player. She developed her two-handed style on the advice of her father, who is also her coach. He had seen the classic 1992 French Open final in which Monica Seles defeated Steffi Graf, and immediately was inspired to teach the technique to his daughter.

Marion also had trouble with her forehand at the time, so when she made the switch to two hands, it greatly improved. She uses her double-fisted strokes to create sharp angles to open up the court and prefers to take the ball early on groundstrokes and especially returns of serve, usually standing close to the baseline or even inside it during rallies. Her style of play can be most closely compared to that of Seles, who had a strong influence on Bartoli as a young player, though unlike Seles, Bartoli serves right-handed. However, she is not a very good mover and is further inhibited by her two-fisted strokes, which can make her vulnerable to fast all-court players. Bartoli is also known for her unusual serve, in which she uses her wrist to generate speed.


[get this widget]