Another tennis hottie to keep tabs on, Victoria Azarenka of Belarus is a tall leggy blonde with a nice tight body. Here she is in action during a match at the Prague Open 2008 this weekend.

Victoria has a sweet body,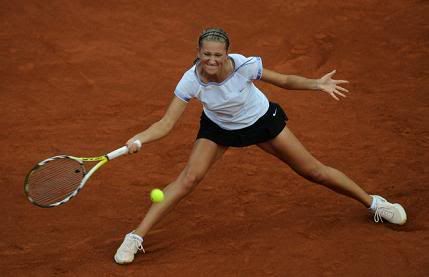 Excertps from her bio on Wikipedia,
Victoria Azarenka (Belarusian: Вікторыя Азарэнка, Азаранка, Russian: Виктория Азаренко; born July 31, 1989) is a tennis player from Minsk, Belarus, who became junior world champion in 2005. She won the 2007 U.S. Open mixed doubles title with her partner Max Mirnyi, and also finished runner-up at the 2007 Australian Open with him. Currently she lives in Scottsdale, Arizona and trains in Marbella, Spain. On January 28, 2008 she reached a career high of No. 24 in singles.

In 2005, Azarenka won the Australian Open and U.S. Open as a junior and was named the ITF Junior Girls World Champion for that year, the first player from Belarus to do so. That year as well Azarenka won her first ITF title in Petange, Luxembourg. In Guangzhou, China, she reached her first pro-level semifinal, winning three qualifying rounds and defeating Martina Suchá and Shuai Peng in the main draw before losing to eventual champion Yan Zi.


[get this widget]